Is one of your new year's resolutions to 'shop small'? We really hope so!
Buying from real people makes all the difference, especially in the world that we are living in at the moment.
We are proud to bring you the next in the series of 'Support Small Scotland' shining a light on Scottish jewellery maker Gracie J and its founder, Jackie.
Your January WeeBox showcases one of Jackie's beautiful pieces inspired by Glencoe and we know you are going to adore it. A bespoke piece especially designed for our WeeBox Clan, this hand-crafted necklace in sterling silver depicts the magical and mystical landscape of Glencoe.
If you love this Glencoe necklace, then why not treat yourself to the matching earrings (read on too for your exclusive 15% discount!) https://graciej.co.uk/product/glencoe-earrings/
A wee bit about Jackie
"I'm Jackie Selcraig, owner and designer of Gracie J, and I make jewellery from my home-based studio in the rolling hills of the Scottish Borders. My husband and I moved here from Edinburgh over 20 years ago. It's really beautiful and I constantly find inspiration from the landscape that surrounds me when I'm out walking our two dogs.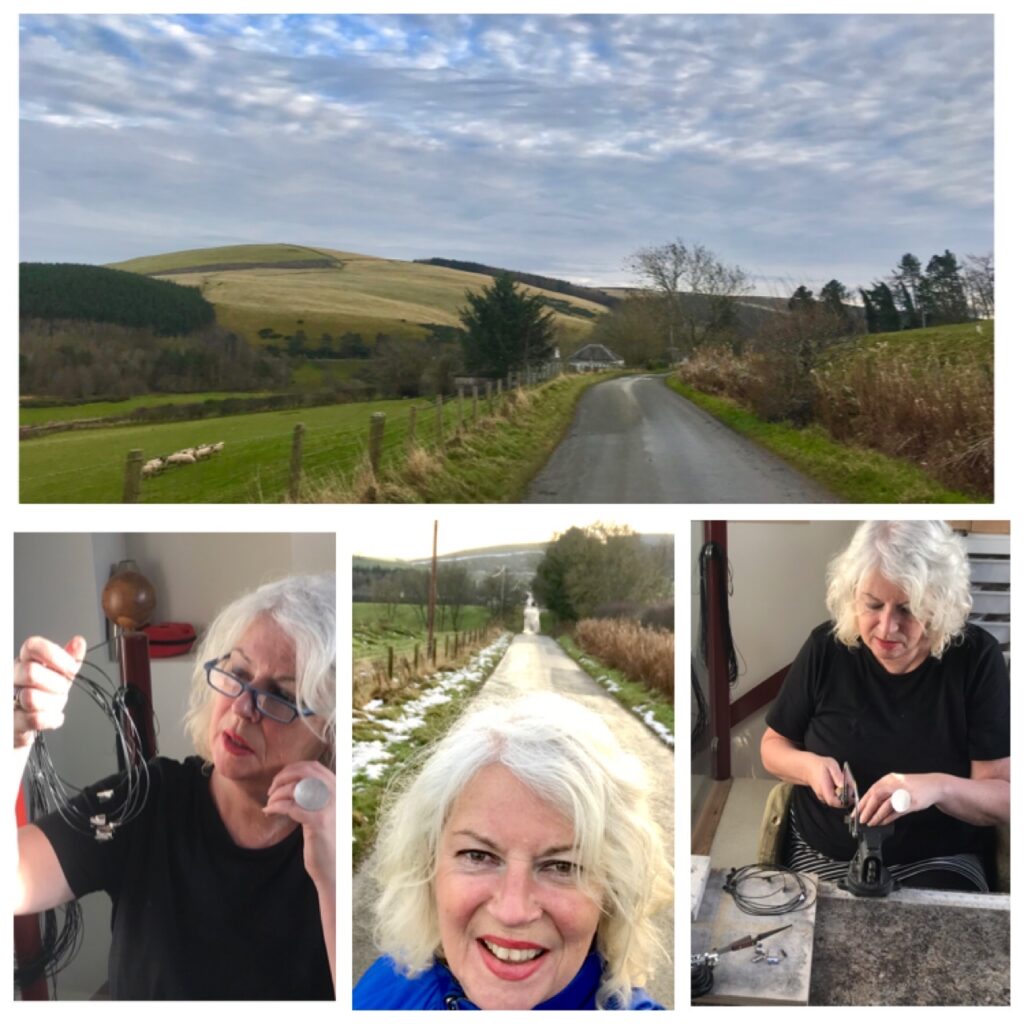 I've been a creative dabbler all my life.
I'm self-taught and love the freedom of experimenting with different materials and jewellery designs without rules or without any clear idea of what the end result might be. After 'dabbling' for most of my life, in 2006, Gracie J came into being and I've never really looked back.
I started out making unusual pieces using ceramic beads and leather. At the time, there were very few people using leather and I came up with a special button fastening to avoid the use of metal components. This gave the jewellery a clean, simple finish. I still use this in my designs to this day.
I like to appeal to many people so I have a few distinct jewellery ranges. I love using colourful ceramic beads which have become firm favourites over the years. More recently I moved towards creating a monochrome range using silver pieces with texture and oxidisation. My 'Scottish Skies' sterling silver and leather collection is a celebration of the unique words we use in Scotland to describe the weather – Gloaming, Smirr, Haar and Snell – transferred onto silver. All these pieces are classically elegant and so easy to wear. You can see them all on my website. Also my jewellery is sold in many shops around Scotland and the UK.
My introduction to WeeBox
I first met Amy from WeeBox about 4 years ago. She'd recently launched this fantastic concept and she approached me to see if I'd be interested in making a piece for one of her boxes the following year. I was very taken with her passion for all things 'Scotland' and loved that she wanted to share the abundant Scottish creativity and talent with the world! I was thrilled to be part of this exciting new venture and one of my pieces was included in the February 2018 WeeBox. Roll forward a couple of years and another invitation to include a piece of my jewellery in one of the future, by now extremely popular, WeeBoxes.
This time, I wanted to create a bespoke piece – something especially for her WeeBox Clan. Amy had mentioned that there were many 'Outlander' fans amongst the Clan so I decided to make my focus the Scottish Highlands and Glencoe to be precise. Coincidentally, my cousin played a small role in the first 'Outlander' season (Willie, for those that are interested) so the connection was there. Here's a picture of him holding my 'Glencoe' necklace:
Having to create thousands of these tiny landscapes was no small undertaking so I enlisted the help of a few very special people. My Mum and Dad, my husband and Laura, who happens to live next door. We were the perfect team and I couldn't have done it without them!
Each small pendant has been hand-etched and finished so no two are the same. Mum calls them "little masterpieces" and I hope you'll appreciate the uniqueness of your very own Glencoe Necklace, and the love and care that has gone into making each one a little work of art." Jackie
To say 'thank you', Jackie would also like to offer you an exclusive discount.
Use DISCOUNT CODE: WEEBOX15 for 15% off their whole range of jewellery including Scottish Skies
(Valid through end of February 2021)
✨You can support Jackie by following and liking Gracie J ✨
📣Facebook: @mygraciej
📣Instagram: @graciejsilver
🛍 Visit her online shop: www.graciej.co.uk