Join our founder, Amy, in her first monthly column inside the Best of Scotland Magazine with The Herald Scotland.
"Amy McCusker, the founder of WeeBox Scotland's global subscription box, has gathered an inspiring community of makers who supply gifts for her thriving business – and each month, she will tell the story of these marvellous Scottish creators.
When I founded WeeBox back in 2016, I quickly realised a truly special part of my job was meeting our glorious Scottish makers. Their thoughtfulness, creativity and innovation are a constant source of inspiration to this day.
Hearing their stories, what inspires them and how they express their love of Scotland is fundamental to the Scottish happiness we wrap up inside WeeBox.
As we begin to share these gifts with our global subscribers, affectionately known as the 'WeeBox Clan', we began to witness an incredible phenomenon – our makers and our subscribers were building their own relationships online. They were bonding over a shared love for Scotland, supporting each other through Covid and sharing joy in each other's lives. This phenomenon has been the inspiration of this monthly feature.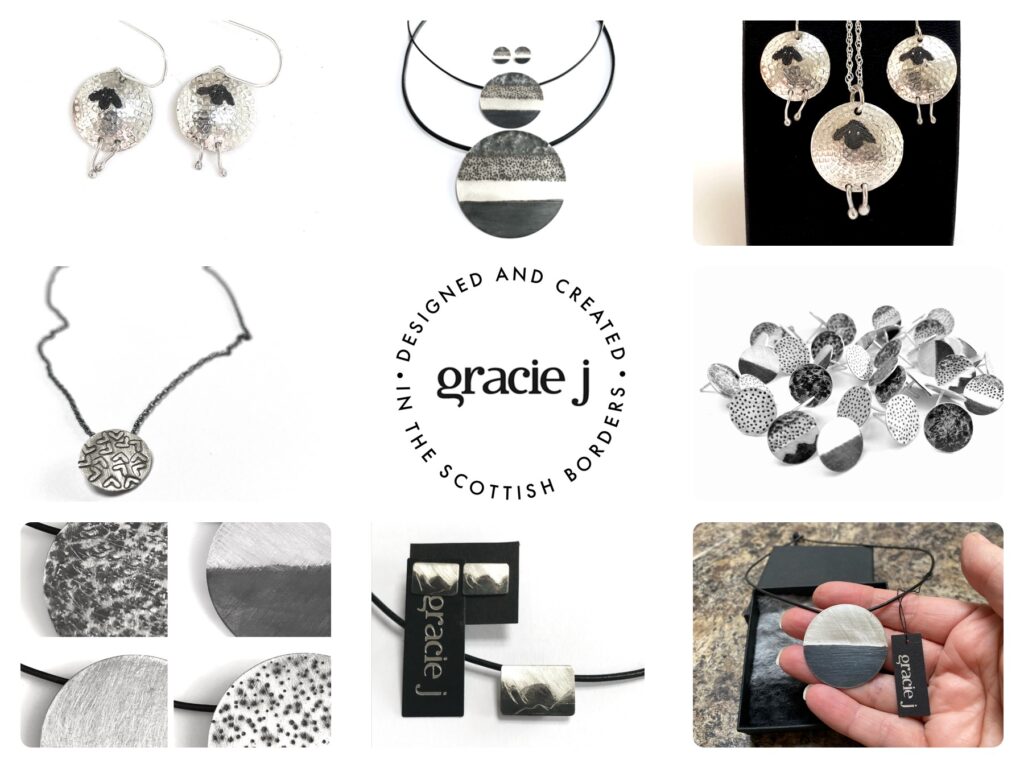 Jackie Selcraig, founder of Gracie J Jewellery, and I hit it off very early in my WeeBox journey. A jewellery designer living in the beautiful rolling hills of the Scottish Borders with her husband Charlie and best friend Ted (her dog!).
She has strong connections to the natural world and spends a lot of time outdoors, often photographing and recording what she sees and hears around her. Jackie is a self-taught creative dabbler and has been making her own jewellery for as long as she can remember.
Her 'Scottish Skies' Collection is a reflection of our ever-changing weather, and her quirky 'Flock' Range of sheep-shaped jewellery was entirely inspired by many of her WeeBox customers who always engage so endearingly with her many sheep photos and social media!
Jackie told me: "It's always such a joy to be able to make something you know is going to be appreciated and cherished all over the globe. My business has grown so much since my first introduction to WeeBox and now almost half of all my website sales are from across the pond. Some of these customers have even become firm friends!"
One very special connection Jackie made was with WeeBox subscriber, Cambrey from Utah, USA. After receiving one of her jewellery gifts in a WeeBox, they started following each other on Instagram. Shortly after connecting, Jackie noticed Cambrey was training for the New York Marathon, something she had also done years before. She knew how gruelling and relentless it was so started to send messages of encouragement and, finally, congratulations.
As a survivor of domestic violence, Cambrey was told she would never walk again, so this achievement meant everything to her.
Cambrey recalls: "The support and love I felt from Jackie was overwhelming. After my race, she sent me pictures from when she ran the marathon herself and was excited because we both ran in tartans. Our long-distance friendship has continued for over a year and my life is so much better for it."
"In the spring of 2022, I received a tartan pendant which she had made in my WeeBox and I carried that with me as I ran the New York Marathon again in November 2022!"
Cambrey's. great-grandfather, Walter Calwell, wore his great-grandfather's (David Caldwell) tartan and David Caldwell and his wife Mary immigrated from Scotland as part of a program that sent weavers to Canada. Cambrey lives with her husband Andy and two boys in South Jordan, Utah. Her message to our Scottish makers? "Here's to Scotland's small and micro businesses, and those bold and kind people who lead them! Here's to the light you bring, the strength you have, and how you uplift people every day with your products, talents and ideas."
I don't think I could say it better myself."