We Scots love to party, and there's no better time to do that than St. Andrew's Day – Scotland's national day celebrated on 30 November! This month, WeeBox is brimming with Scottish gifts curated to help you and your guests celebrate like a Scot!
Celebrating is what Scots and Scots-at-heart are famous for. This St. Andrew's Day there will be parties galore and WeeBox has all you need to make your St. Andrew's Dinner the best shindig ever.
Bring on the food!
Why not go all out this year and prepare a Scottish feast for your friends and family! If you're a true Scot, you'll know that Maw Broon, Scotland's favourite matriarch is the best cook! WeeBox has included her Cookbook to help you create an authentic Scottish family St. Andrew's Night for you and yours! The Broons are the cartoon characters who've entertained Scotland for 80 years and known as 'the happy Scottish family that makes every family happy'. So jings, crivvens and help ma boab – create your St. Andrew's feast with a wee hand from the Broons!
What to wear?!
A Scottish party is never complete without traditional tartan dress, kilts, sporrans and a wee touch of heather! And to add that sparkle to your event, the jewel in your St. Andrew's WeeBox is a stunning gift from leading Scottish jewellery designer, Euan McWhirter!
WeeBox is honoured to bring this exclusive collaboration with Euan McWhirter who has famously dressed the fingers of many celebrities … including Kylie Minogue! Retailing at £35 these luxurious 'St Andrew's blue' earrings will look bonny on you or the lassie in your life! And Euan hasn't stopped there …. He has included a special discount in your WeeBox for you to own more of your very own Scottish luxury jewellery. Simply visit www.euanmcwhirter.co.uk and use your code – enjoy you lucky WeeBox subscribers!!
Deck the halls!
So, raise the saltire bunting, greet your guests wearing the iconic "See you Jimmy" hat and announce your Scottishness year round with your Scottish flags lapel pin!
And fer the morning after… we have even thought of your wee drouth! Beat the dreaded hangover with this classic Scottish hangover cure – Irn-Bru, the unique nectar of the gods, made in Scotland from girders!
Here's a few subscribers getting into the spirit #wheresweebox!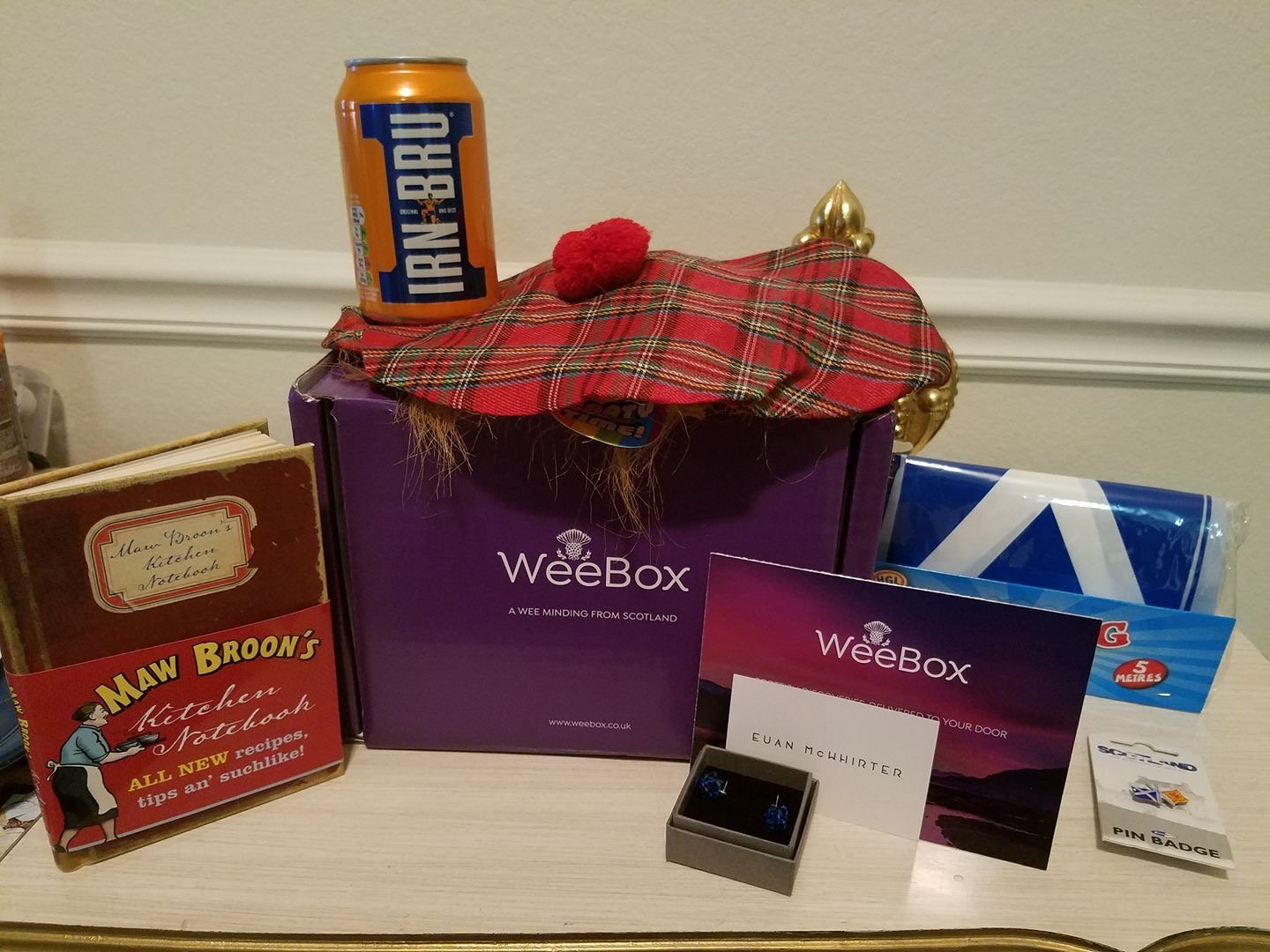 Happy St. Andrew's Day from all at WeeBox!