This may be the year of the staycation, but that doesn't mean you can't journey to Scotland with a good book! We asked Birlinn, one of our wonderful Scottish book suppliers to share their essential Scottish, summer reading guide exclusively with our WeeBox Clan. Their team of experts relished the challenge and Kristian, Alison, Jamie, Hugh and Kathryn have shared their top picks just for you.
Enjoy and hope you can find your favourite to escape to our glorious land!
"Here at Birlinn, we are proud of our reputation within Scottish publishing, and our determination to champion Scottish writing. Particularly during these unsettling times, we have all sought solace with books, and some of us have written about our favourite Birlinn books. They're all available from our website, so perhaps you will find a new favourite too!"
Kristian Kerr
A Taste of Scotland's Islands, Sue Lawrence: https://birlinn.co.uk/product/a-taste-of-scotlands-islands/
This book is a treat, combining my two favourite things: food and travel. It's a tour of the Hebrides and a trove of excellent (and straightforward) recipes that showcase the world-class produce of these beautiful islands. Sue Lawrence visited artisan bakers, black-pudding makers, scallop-divers, and sheep farmers to tell their stories and share their signature dishes in this handsome book. My top picks are the Jura venison and gin pie and Colonsay Book Festival's gin and tonic cake. It makes a gorgeous gift, and not just for gin fans (I promise)!
Alison Rae
The Unmaking of Ellie Rook, Sandra Ireland: https://birlinn.co.uk/product/the-unmaking-of-ellie-rook/
Ellie Rook has had enough of being the grubby wee kid from the junkyard. She's wild, always getting into fights, and her dad is a bully. She runs away to make a life for herself abroad, but then a phone call comes . . .
Her mum has been reported missing, presumed drowned, at the site of an ancient waterfall where a Pictish warrior queen jumped to her death, and everyone's telling Ellie different stories.
Ellie must confront the reality of her childhood, try to make sense of her mother's disappearance, and, finally, stand up to her father on equal terms.
The Unmaking of Ellie Rook is a gripping and original tale of power and coercion, set against the backdrop of an ancient Scottish folktale, with strong female characters and twists aplenty.
Jamie Harris
Hue and Cry, Shirley McKay: https://birlinn.co.uk/product/hue-cry/
Hue & Cry is an exquisitely written historical mystery set in 16th Century St Andrews, on the campus of the town's world-famous university. It is a gripping tale of intrigue and deception within the cloistered academic world, enriched on every page with immaculately researched historical detail. Both a fascinating portrait of 16th Century Scotland and a thrilling mystery, it is a book that will appeal to fans of both history and crime.
Hugh Andrew
A Drop in the Ocean, Polly Pullar: https://birlinn.co.uk/product/a-drop-in-the-ocean/
It's never entirely fair to pick out one book on a list to talk about but Polly Pullar's A Drop in the Ocean seems to me to speak to the time. It is a sort of biography of an extraordinary man. His name is Laurence MacEwen and he is the Laird of Muck. I say 'sort of biography' as it is also the story of an island – an extraordinarily beautiful and little visited island which is one of the Small Isles off Mallaig.
Over the years – in the face of extraordinary odds – Laurence and his family and here we must pay tribute to the many MacEwens for whom Muck is more than simply a geographical expression have built a resilient and self sustaining community, working with nature and beside it. A visit to Muck is a window onto how our lives could be led, and how much richer and fulfilling they could be. Polly has written a wonderful book about a man and a place whose story should inspire us all.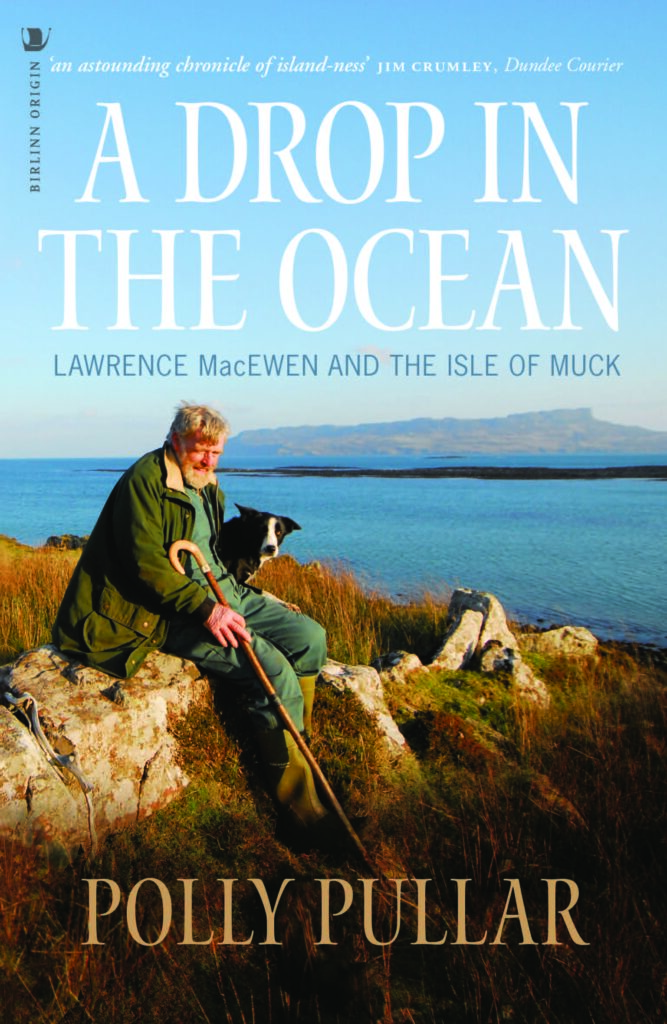 Kathryn Haldane
The Unremembered Places, Patrick Baker: https://birlinn.co.uk/product/the-unremembered-places/
It's not unusual to stumble across areas of incredible beauty when exploring the remote reaches of Scotland, but rarer to come across are the relics, memorials, ancient structures, and natural phenomena described in this book. In The Unremembered Places, Patrick Baker takes the reader on a unique journey to Scotland's most hidden places, tucked away out of the view of the average rambler.
From Neolithic settlements, fairy-tale caves, Second World War relics and sacred wells, Baker delves into the extraordinary history of these places, discovering the legends and literature that define them. His passion for exploration comes across in the beautifully captivating writing, and it taps into the primal joy of discovery that we all experience. The Unremembered Places has such incredibly tangible writing, where the reader feels transported to these landscapes and infected with Baker's boundless enthusiasm.